Zinfandel & Cherry Glazed Pork Tenderloin with a Caramelized Fennel Gremolata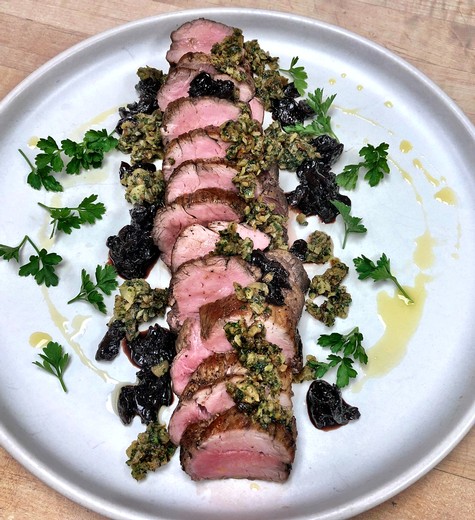 Recipe Date:
October 31, 2018
Measurements:
Imperial (US)
Directions
Pairs well with: Zinfandel
This recipe would be enjoyable on any night with friends and family and will shine at your holiday meals. Saluté!
INGREDIENTS:
2 each 1 pound pork tenderloins, trimmed of any silver skin and fat
¾ cup of Zinfandel wine
¼ cup balsamic vinegar
2 Tablespoons of honey
½ cup of chopped dried cherries
2 heads of fennel, finely diced
2 + 2 Tablespoons of pure olive oil, divided
Zest of ¼ of one navel orange (microplaned)
½ teaspoon of chopped fresh tarragon
2 teaspoons of chopped fresh parsley
1 clove of garlic, grated on microplane
2 Tablespoons Extra Virgin Olive Oil
salt & pepper to taste
TECHNIQUE:
CARAMELIZED FENNEL GREMOLATA
Heat 2 Tablespoons of olive oil over medium high heat until the oil is hot. Add fennel and cook, stirring frequently, until golden brown and caramelized. Remove from heat, put in mixing bowl and allow to cool to room temperature. Add zest, garlic, tarragon and parsley. Add 2 Tablespoons of EVOO (add enough just to coat all ingredients) and season to taste with salt and pepper. The gremolata can be made ahead - just make sure you serve it at room temperature.
PORK TENDERLOIN
Season pork tenderloins to taste with salt and pepper. Preheat the oven to 325 F. In a pan large enough to hold the roast, heat 2 Tablespoons of olive oil over medium heat, until hot and almost smoking. Add pork and sear all sides. Place pan in the oven and cook until pork reaches desired doneness - 145 F for perfect medium. Remove from pan and allow to rest for 5 minutes. Optional: you can, or have your butcher, tress together both pork tenderloins for a larger, more forgiving roast, and a more dramatic presentation.
ZINFANDEL & CHEERY GLAZE
Once pork is removed to rest, wipe out any fat and juices from the pan, but leave caramelized bits. Add Zinfandel and return to a medium flame. Scrape up any bits while the wine aids in the deglazing process. Add balsamic vinegar, honey and cherries. Reduce until left with cherries and a couple tablespoons of liquid. Return pork to board, and keep the sauce warm in the pan until ready to serve. Remove string if tied and slice into ¾"-1" pieces.
PLATING
Serve on a platter and garnish with warm, glazed cherries and caramelized fennel gremolata.
---