Roasted NY Steak with Caramelized Onion Jam and Crispy Fingerling Potatoes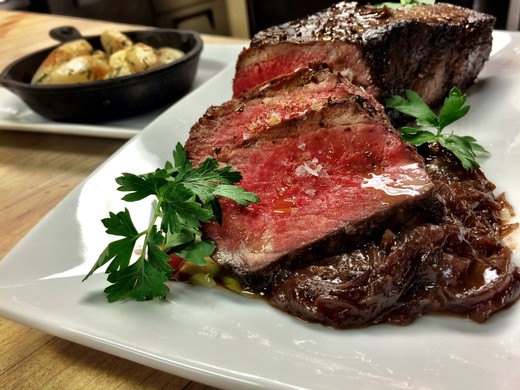 Recipe Date:
November 16, 2015
Measurements:
Imperial (US)
Directions
Pairs well with: Cortina Zinfandel
This is a delicious recipe, perfect for the onset of Autumn. Let the steaks shine in this recipe, complimenting them with a delicious onion hame and simple fingerling potatoes.
Roasted NY Steak
INGREDIENTS:
6 filets of NY Steak
salt
pepper
paprika
TECHNIQUE:
Pull steaks from refrigerator 1 hr before you plan on cooking. Rub to your liking with salt, pepper and paprika. Brush with olive oil and grill to your desired doneness.
Fingerling Potatoes
INGREDIENTS:
1 LB of fingerling potatoes
2 T melted butter
1 T chopped parsley
salt & pepper to taste
TECHNIQUE:
Preheat oven to 425°F. Poach potatoes in salted water until just cooked. Strain and cool. Once cooled, cut into bite-sized pieces and toss with butter. Roast until crispy and toss with parsley, salt and pepper.
Carmelized Onion Jam
INGREDIENTS:
¼ cup olive oil
8 cups julienned onion
1 T Diamond Crystal Kosher Salt
½ cup red wine
½ cup red wine Vinegar
½ cup brown sugar
1 T tomato paste
1 T black pepper
2 T mustard seed
2 t chopped fresh thyme
1 bay leaf
TECHNIQUE:
Add olive oil to pan and heat over medium high heat. Add onions and salt, stir and cover. Cook covered on medium heat for ten minutes. Add tomato paste and cook until it turns brick colored and sticks to pan. Add wine, vinegar, sugar, black pepper, mustard seed and bay leaf. Cook until liquids thicken and are reduced but not completely dry. Remove bay leaf and stir in thyme. Salt and pepper to taste.