Potato Gnocchi with Bolognese Sauce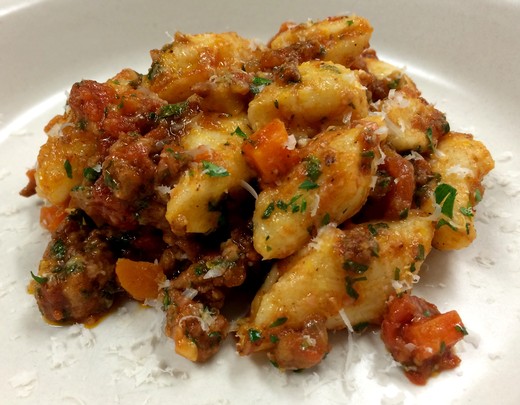 Recipe Date:
September 30, 2015
Measurements:
Imperial (US)
Directions
Pairs well with: Venom
Bolognese sauce is the perfect topping for homemade potato gnocchi.
SAUCE BOLOGNESE
INGREDIENTS
¾ cup diced onion
½ cup diced celery
½ cup diced carrot
8 oz ground beef
4 oz ground pork
1 T chopped garlic
¾ cup red wine
1 cup whole milk
28-oz can of diced San Marzano tomatoes with juice
¼ cup tomato paste
2 T chopped parsley
½ cup olive oil
TECHNIQUE:
1. Heat 2 TB of oil, and add beef and pork.
2. Brown meat, then remove from pan and strain off fat. Reserve meat in bowl and return pan to heat.
3. Add ¼ cup of oil and heat. Once hot add onion, carrot and celery. Proceed to cook until soft but without any color.
4. Add garlic and cook for 1 minute. Add tomato paste and red wine.
5. Cook until mixture becomes a thick paste that slightly sticks to pan.
6. Add milk and reserved cooked meat and reduce by ½ on low heat.
7. Add tomatoes and let simmer for 2 ½ hours.
8. Turn off heat and whisk in ¼ cup of olive oil and the chopped parsley.
POTATO GNOCCHI
INGREDIENTS
3lbs russet potatoes
7 egg yolks
1 cup parmesan finely grated
1-1/4 cups of all purpose flour + flour for rolling gnocchi
½ teaspoon of salt
TECHNIQUE:
1. Preheat oven to 375F
2. Poke russets all over with fork and place on bed of kosher salt on sheet pan in oven. Bake for 60-75 minutes. Once cooked, remove from oven and allow potatoes to cool until you can handle them.
3. Cut potatoes in half, scoop out potato from skin and rice into mixing bowl. Add yolks, salt and cheese to potatoes and mix together with a wooden spoon.
4. Add 1 cup of flour and work to form dough. Dough should be wet but not sticky; if needed, add final ¼ cup flour in 1 tablespoon increments to achieve desired result. Wrap in plastic wrap and let rest for 30 minutes.
5. Divide into 8 even pieces and roll on floured surface into ropes ¾ of an inch thick. Cut ropes into 1 inch pieces and store on floured parchment until ready to cook.
6. When ready to cook add gnocchi to boiling salted water and let gnocchi rise to top, then cook for 3 additional minutes. Remove with slotted spoon and add to hot Bolognese sauce.