Corn Salad with Green Tomato and Feta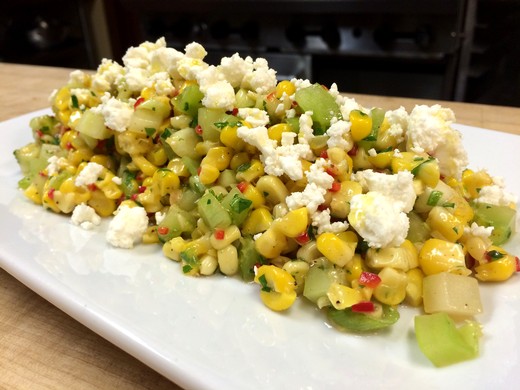 Recipe Date:
August 10, 2015
Measurements:
Imperial (US)
Directions
Pairs well with: Vermentino
This corn salad was a fan favorite at our 2015 Zin & BBQ Festival.
INGREDIENTS
(6-8 servings)
3 cups cooked corn
1 ½ cups diced green tomato
3 T fine diced fresno chili
¾ cup sliced scallions
2 T chopped parsley
1 t chopped chervil
3 T Extra Virgin Olive Oil
1 T Champagne vinegar
2 t lemon juice
¾ cup crumbled feta
salt and pepper to taste
TECHNIQUE:
1. Combine all ingredients excluding feta, salt and pepper.
2. Toss to evenly distribute.
3. Season with salt and pepper.
4. Put in a serving bowl and garnish with crumbled feta.