Grilled Leg of Lamb on Olive Oil Smashed Potatoes with Green Olive and Golden Raisin Tapenade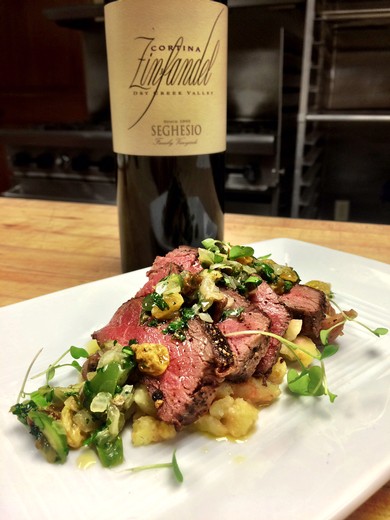 Recipe Date:
March 9, 2020
Measurements:
Imperial (US)
Directions
Pairs with Cortina Zinfandel
The gamey lamb and decadent potatoes help to tame the tannins and show this wine's great structure and balance. The sweet, salty and herbal tapenade melts into the wine and hits all the perfect umami notes.
Ingredients:
Leg of Lamb
2 lbs leg of lamb cut into steaks by your butcher
¼ cup of Olive oil
6 cloves of smashed Garlic
2 teaspoons of black pepper
Salt to taste
Olive Oil Smashed Potatoes
1.5 lbs. of peeled potatoes Yukon gold or French Fingerling
6 cloves of Garlic
1 Bay Leaf
¼ cup of EVOO
1 cup of potato cooking liquid
Green Olive and Golden Raisin Tapenade
¾ cup of chopped Green Olives (Castelvetrano)
¼ cup of Golden Raisins: reconstituted in hot water and roughly chopped
1 clove of Garlic microplaned
½ cup of finely diced fennel, sautéed until tender in olive oil and cooled
2 Tablespoons of chopped capers
2 teaspoons of Oregano
2 Tablespoons of Parsley
1 Tablespoon of Red Wine Vinegar
High Quality Olive Oil to coat and sauce ¼ cup to ½ cup
Salt and Pepper to taste
Technique:
Green Olive and Golden Raisin Tapenade
Combine all ingredients and season to taste with salt and pepper.
Can be made in advance and stored in the refrigerator.
Allow enough time out of the refrigerator to serve at room temperature on the dish.
Olive Oil Smashed Potatoes
Place potatoes, garlic and bay leaf in a pot of cold water.
Boil until soft and strain, reserving 1 cup of cooking liquid.
Smash potatoes and garlic together in a pan.
Add olive oil and incorporate it with the potatoes and garlic.
Add reserved cooking liquid if needed to achieve the texture you desire.
Season to taste with salt and keep warm while you cook the lamb.
Grilled Leg of Lamb
Marinate lamb for four hours in olive oil, garlic, and black pepper.
Remove from refrigerator and season with salt to taste.
Let stand until it reaches room temperature.
Have grill warming up while the lamb is coming to room temperature.
Grill the lamb to your desired doneness.
Allow to rest and then slice.
Serve on top of potatoes and garnish with tapenade.