Grilled Bistro Steak with Chimichurri & Corona Bean and Summer Pepper Ragout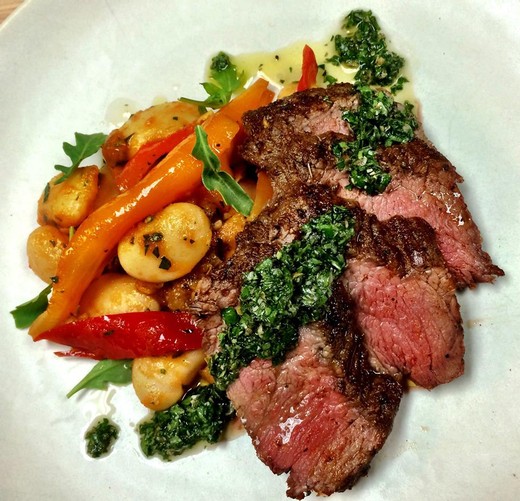 Recipe Date:
June 21, 2018
Measurements:
Imperial (US)
Directions
Pairs well with: Sangiovese & Barbera
This recipe highlights the peak ripeness of these seasonal treats. Furthermore, it showcases one of our favorite cuts of beef and makes for a great dish to kick off grilling season.
INGREDIENTS:

4 bistro steaks or petit tenders
5 T pure olive oil, divided
1 c chopped parsley
¼ c chopped oregano
3 garlic cloves, microplaned
2 T chopped capers
2 t lemon juice
2 t red wine vinegar
¼ t salt
1 c extra virgin olive oil
2 bell peppers cut in wide strips
½ yellow onion, julienned
2 t chopped garlic
1 T tomato paste
¼ c white wine
2 c cooked corona beans
1 T chopped parsley
TECHNIQUE:
STEAK
Preheat the grill. Rub steaks with salt, pepper and 2 T olive oil. Allow to sit at room temperature for 45 minutes. Grill to your desired doneness and allow to rest for 5 minutes before slicing.
CHIMICHURRI
Mix together the first 10 ingredients (except steak and pure olive oil) and let sit at room temperature.
RAGOUT
Sweat onions and peppers over medium high heat in 2 TB oilve oil until they begin to soften. Add garlic and cook for 30 seconds. Add tomato paste, stir and cook for 1 minute. Deglaze with white wine, add beans and cook until hot and almost dry. Remove from heat and stir in parsley and 1 TB pure olive oil, Season to taste with salt.
PLATING
Spoon ragout onto the center of the plate. Fan sliced steaks over the top and garnish with chimichurri.
---