Egg Papparelle with a Zinfandel Braised Short Rib Ragu, Preserved Tomatoes and Mushrooms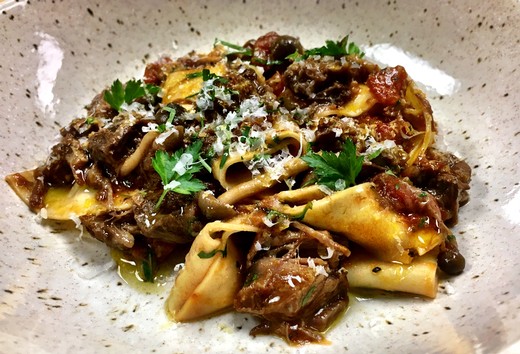 Recipe Date:
November 2, 2017
Measurements:
Imperial (US)
Directions
Pairs well with: Montafi Zinfandel
With cool autumn nights ahead, nothing sounds better than a warm bowl of pasta with hearty ragu. This recipe would be enjoyable on any night with friends and family and will shine at your holiday meals. Saluté!
INGREDIENTS:
2 lbs. of short ribs
2 Tablespoons of Olive Oil
1 cup of diced shallots
2 Tablespoons of minced garlic
6 cups of clamshell mushrooms
½ cup of tomato paste
1 cup of Zinfandel
28 oz diced, peeled tomatoes and their juice
1 qt of chicken or beef stock
Salt and pepper to taste
Parmesan and chopped parsley to garnish
TECHNIQUE:
Season short ribs to taste with salt and pepper. Preheat oven to 300F. Heat oil up over medium high heat in a Dutch oven large enough to hold all ingredients. Once hot, brown short ribs on all sides. Remove short ribs from pan and turn heat to medium.
Add shallots and sauté until soft and translucent. Add garlic and cook for 1 minute. Add mushrooms and cook until they release their liquid, then add tomato paste and stir until brickish brown in color. Deglaze with red wine and stir until it forms a thick paste.
Add tomatoes, short ribs and stock, then cover and place in oven. Cook until fork tender (approx. 3-4 hours), rolling meat over every 45 minutes. Remove short ribs from the pan and allow to cool at room temperature.
Meanwhile, reduce the sauce and simmer on the stovetop until desired consistency is reached. Shred meat and fold back into sauce. Season to taste with salt and pepper, and keep warm.
Cook pappardelle to al denté. Toss with sauce and serve in bowls garnished with parmesan and parsley. Enjoy!
---