Chicken Cacciatore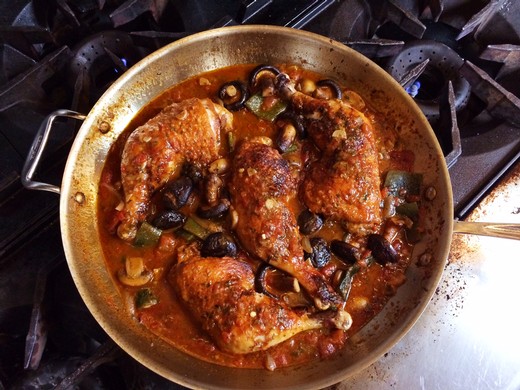 Recipe Date:
December 22, 2015
Measurements:
Imperial (US)
Directions
Pairs well with: Old Vine Zinfandel
The dish is typical of what has been served at the winery by generations of Seghesios. The tomato-based sauce lends the dish a level of acidity that works seamlessly with the inherent acidity of the Old Vine Zinfandel and the chicken thighs instill a richness that strikes just the right balance with the tannins. The mushrooms give the dish an earthy backdrop that allows the wine to expose its many layers of fruit, and the fragrant rosemary and sweet smoky peppers add a depth to the dish that enhances the oak finish.
Chicken Cacciatore
INGREDIENTS:
6 chicken legs
1 onion, julienned
6 cloves of garlic, slivered
4 cups shitake mushrooms
1 TB chopped rosemary
½ tsp chili flakes
¼ cup tomato paste
¾ cup dry red wine
2 cups chicken stock
28 oz of San Marzano tomatoes and their juice
1 cup of roasted red peppers
½ cup of olive oil, divided
3 TB chopped parsley
salt and pepper to taste
TECHNIQUE:
Season the chicken legs with salt and pepper to your liking. Heat ¼ cup of olive oil over medium high heat in a pan large enough to hold chicken in a single layer. Cook until skin is golden brown on both sides. (If you don't have a pan big enough you can brown the chicken in batches). Once browned, remove the chicken from the pan and reserve. Add onion and keep cooking over medium high heat until soft and translucent. Add garlic and cook for 1 minute more while stirring, then add mushrooms and cook for another minute. Add rosemary, chili flakes and tomato paste and cook for 1 minute. Add red wine and cook until the mixture becomes a paste and starts to stick slightly to the pan. Deglaze with chicken stock. Add your tomatoes and juice, then cover and bring to a simmer. Return chicken to the pan, cover and simmer for 45 minutes. Uncover and stir in poblano peppers, parsley and ¼ cup of olive oil. Season to taste with salt and pepper. Spoon chicken and sauce over parmesan polenta.