Cassoulet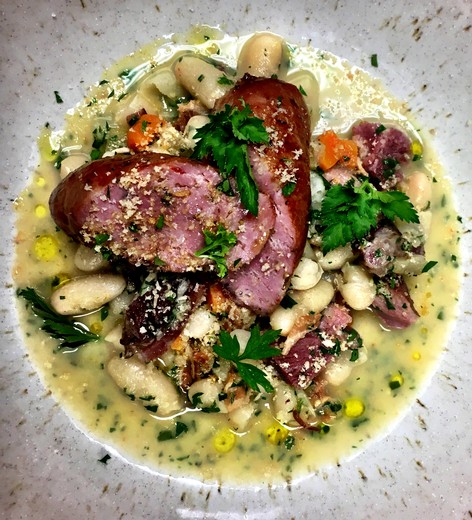 Recipe Date:
February 5, 2018
Measurements:
Imperial (US)
Directions
Pairs well with: Cortina Zinfandel
Cassoulet is a labor of love. It should not or cannot be rushed into. At its heart it is a rustic bean and meat stew, however its complex use of multiple cooking techniques solidifies its spot at the apex of French home cooking. Our rendition takes advantage of things we love here at Seghesio: house-ground, hand-stuffed sausages, salt-cured pork bellies, smoked pork shanks and cannellini beans. These ingredients give us an Italian twist that pays homage to our roots and a finished dish that is wholly, Sonoma County.
INGREDIENTS:
1 ½ lb bone-in, smoked pork shank (available at Whole Foods)
1 ½ cups cannellini beans, soaked overnight in cold water
1 whole carrot
2 ribs celery
½ onion
1 bay leaf
5 cloves garlic
1 ½ cups diced pancetta pancetta
½ cup fine diced onion
½ cup fine diced carrot
½ cup fine diced celery
2 Tablespoons of minced garlic
¼ cup Dijon mustard
¾ cup white wine
1 teaspoon ground coriander
½ teaspoon of chili flake
2 teaspoons of black pepper
2 Tablespoons of pure olive oil
8 each fennel sausages (or sweet Italian sausages)
¼ cup chopped parsley
½ cup panko
1 Tablespoon butter + ¼ cup butter
1 clove of garlic
Evoo to garnish
TECHNIQUE:
Remove beans from soaking water and place in large pan. Add pork shank, carrot, onion, celery, garlic and bay leaf. Cover with water and bring to a boil, then reduce to a simmer and cook until beans are soft - approximately 90 minutes. Allow to cool at room temperature and remove and discard carrot, celery, onion, garlic and bay leaf. Remove pork shank and pick meat off the bone in bite size pieces; reserve. Strain beans and reserve liquid, skimming any fat off the top. (You could refrigerate all components at this stage and build cassoulet on day 2 and serve on day 2. Store beans in liquid overnight if you choose this technique.)
Render pancetta and reserve crispy pancetta and ¼ cup of pancetta fat. In a pot large enough to hold all ingredients except sausage, add pancetta fat and heat until hot at medium high. Add carrot, onion and celery; sweat until soft and translucent. Add minced garlic, coriander, black pepper and mustard; stir until mustard begins to stick to pan, then deglaze with white wine. Add beans and cover with bean liquid by about ½ inch. Simmer until hot and then add reserved pancetta and pork shank. Place pan in oven preheated at 300 and hold until sausage is cooked and ready to serve - no longer than 30 minutes.
Heat two tablespoons of olive oil up until hot over medium heat in a pan large enough to hold 8 sausages. Add sausage and cook until browned on one side then flip and add to oven to cook until cooked through - approximately 15-20 minutes at 300F.
While sausage is in oven, make garlic pangrattato (breadcrumbs): melt 1 tablespoon of butter in saute pan and add panko. Stir constantly over low heat until golden brown. Remove from heat; microplane in one clove of garlic and stir to incorporate.
Remove beans from oven and stir in ¼ cup of butter and chopped parsley. Season to taste with salt. Scoop bean mixture into warm bowls. Remove sausages and slice on bias and place on top of beans. Drizzle EVOO over the top and garnish the entire dish with the garlic pangrattato.
---